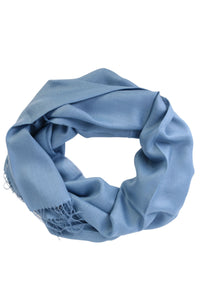 5 times warmer than lamb wool
naturally allergy-free: does not contain lanolin
soft and silky like cashmere
water and dust repellent
doesn't pill easily

Add noble elegance to your life! This luxurious shawl is made with 70% of baby alpaca wool from the Peruvian Highlands and 30% of silk. The shawl is designed with you in mind, knowing how important is the feeling of warmth and comfort on a cold winter's day. The details have been finely hand-crafted. All in all, it is the perfect autumn-winter accessory. Great range of classic colors which are easy to style with your everyday outfits. While similar to sheep's wool, the baby alpaca wool is warmer; contains no lanolin, which makes it hypoallergenic; is not prickly. Soft and luxurious feeling for chilly weather. It has an elegant and sophisticated touch against your skin while being water- and dirt-repellent.


70% baby alpaca 30% silk shawl
27.5 x 78.74 inches
made in Peru
hand finished
dry clean only

An interesting fact about alpacas: Alpacas are extremely productive animal

Keep in mind that it takes three cashmere goats for a single sweater. At the same time, it takes only a single alpaca to create about three sweaters.