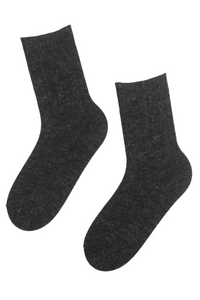 Alpaca wool socks for men featuring classic and simple rib patterns.

Alpacas are bred primarily for their wool, which has amazing properties. Alpaca wool is shiny, silky, elegant, and feels soft. Alpaca wool is 3 times stronger and 7 times warmer than wool from sheep. Alpaca fiber is incredibly soft to the touch, not prickly, bears no lanolin, and therefore – hypoallergenic. Alpacas come in a wide range of colors – 22 natural colors. The preparation, carding, spinning, and weaving of alpaca is very similar to the process used for wool from sheep. Alpacas are typically sheared once per year in the spring. Each animal produces from 2,2 to 4,5 kg of wool per shearing. The quality of wool is measured in microns. However, other properties also are taken into account, for example – the uniformity of wool. These properties affect on costs of wool products.

Colour: black
Composition: 62% acetate, 28% alpaca wool, 10% polyamide
An interesting fact about alpacas: Alpaca yarns have longer fibers

The alpaca wool consists of longer fibers ranging between 10 and 20 centimeters. It depends on the way it starts spinning with the yarn that is lighter on the heavier side. The longer fibers make the yarn alpaca stronger, and the silkiness makes them softer on the skin while it is shinier. Alpaca is less elastic, and the garment in the alpaca wool drapes is a bit different from one knitted in the sheep wool compared to sheep wool.