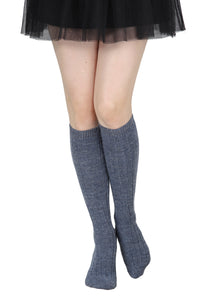 Alpaca wool knee highs for women

Alpacas are mainly farmed for their excellent wool. Alpaca wool is shiny and silky, soft and luxurious. It is believed to be 7 times warmer and 3 times more durable than lambswool. It is not prickly and does not contain lanolin, thus making it hypoallergenic. Wool exists in 22 different natural shades. The process of combing, spinning and knitting alpaca wool is very similar to that of lambswool. In general, alpacas are sheared once a year in spring. Each shearing amounts to 2.2 to 4.5 kg of wool. The quality of wool is assessed in microns (mc), but other properties such as wool uniformity. These also define the price of the wool.

Colour: blue
Composition: 62% acrylic, 28% wool, 10% polyamide
An interesting fact about alpacas: Alpaca wools are used to create the knitwear

Alpaca wools are favorite among fiber enthusiasts, while alpaca yarn is the fixture of the hand-knitting community. Crocheters and knitters create alpaca cardigans, sweaters, and socks. There are various weights to the alpaca yarn, from lightweight or fingering yarn to medium or worsted weight yarn to chunky weight. The alpaca yarn is lightweight, or wool alpaca blend yarn that adds strength and softness to the fiber it is spun with.