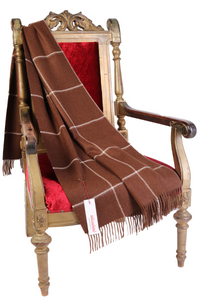 Add noble elegance to your life! This luxurious plaid is made of 100% alpaca wool from the highlands of Peru.
The blanket has been created knowing how important it is to feel warm and comfortable on a cold winter day. The details are finely hand-crafted.
All in all, it's the perfect fall-winter addition to your home.

Alpacas are grown mainly for their excellent wool. Alpaca wool is shiny and silky, soft and luxurious. Alpaca wool is considered to be 7 times warmer and 3 times stronger than sheep wool, it is not pungent and does not contain lanolin, so it is allergy-free.

The plaid has a checkered pattern
Blanket color: brown
Dimensions: 130x180 cm
An interesting fact about alpacas: Alpaca fibers can add luster to the yarn

You can add luster to the yarn by adding about 20 to 25% bamboo to the alpaca fiber, improving the yarn's appearance. The bamboo also adds a pleasing eye drape to the final garment. It is not a good blend for sweaters; however, they are best for scarves and shawls. The bamboo also causes the cross-dye effect since the cellulose fiber does not take the dye strongly, as alpaca is unique to the color of the yarn.