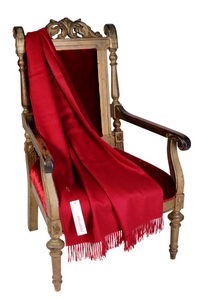 Add noble elegance to your life! This luxurious blanket is made from 100% alpaca wool from the highlands of Peru.

This plaid has been created knowing how important it is to feel warm and comfortable on a cold winter day. The details are finely crafted by hand.
All in all, it's the perfect fall-winter addition to the home.

Alpacas are mainly bred for their excellent wool. Alpaca wool is shiny and silky, soft and luxurious. Alpaca wool is considered to be 7 times warmer and 3 times stronger than sheep's wool, it is not prickly and does not contain lanolin, so it is allergy-free.

Plaid color: dark red
Weight: 520 grams
Dimensions: 130x180 cm
An interesting fact about alpacas: Alpaca fiber is warmer and stronger

Alpaca fibers are three times warmer than wool and seven times more potent. It is one of the most muscular natural fibers available. Alpaca fiber is very soft, like cashmere, and has smoother outer cuticles that make this fiber appear smoother. It has to get done with the scaling structure present in the fiber shaft. The lengthier the distances present between the scales are brighter and smoother. There are barbs as scales join one another along the post, not sticking out as far as the other fibers present closer to this shaft. It offers a great feel to this fiber.