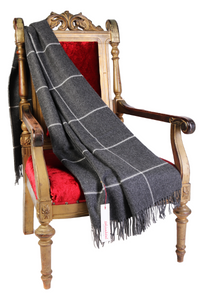 Add noble elegance to your life! This luxurious plaid is made of 100% alpaca wool from the highlands of Peru.
The blanket has been created knowing how important it is to feel warm and comfortable on a cold winter day. The details are finely hand-crafted.
All in all, it's the perfect fall-winter addition to your home.

Alpacas are grown mainly for their excellent wool. Alpaca wool is shiny and silky, soft and luxurious. Alpaca wool is considered to be 7 times warmer and 3 times stronger than sheep wool, it is not pungent and does not contain lanolin, so it is allergy-free.

The plaid has a checkered pattern
Blanket color: gray
Dimensions: 130x180 cm
An interesting fact about alpacas: Alpacas are highly affordable

Alpaca farms have started popping up like mushrooms after the summer rain all over central Europe and North America in recent years. As an outcome, alpaca yarn has recently become one of the most affordable luxury fibers available to knitters.