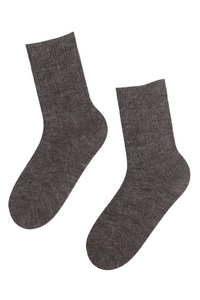 Alpaca wool socks featuring classic and simple rib patterns.

Alpacas are bred primarily for their wool, which has amazing properties. Alpaca wool is shiny, silky, elegant, and feels soft. Alpaca wool is 3 times stronger and 7 times warmer than wool from sheep. Alpaca fiber is incredibly soft to the touch, not prickly, bears no lanolin, and therefore – hypoallergenic. Alpacas come in a wide range of colors – 22 natural colors. The preparing, carding, spinning, and weaving of alpaca is very similar to the process used for wool from sheep. Alpacas are typically sheared once per year in the spring. Each animal produces from 2,2 to 4,5 kg of wool per shearing. The quality of wool is measured in microns. However, other properties also are taken into account, for example – the uniformity of wool. These properties affect on costs of wool products.

Colour: Brown
Composition: 28% alpaca wool, 62% acrylic, 10% polyamide
An interesting fact about alpacas: Alpaca wool is similar to your hair

Like human hair, alpaca wool continues growing. People easily shear off whenever alpaca wool grows longer enough, and it does not hurt the alpacas. The wool is used for making blankets, scarves, and sweaters.