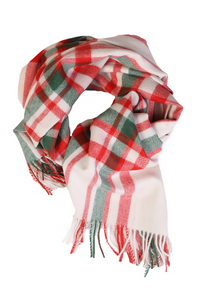 Foggy cold evenings are already knocking on the door, so you have to wrap yourself warmly. The best way to do this is to pull on nice warm socks so that you don't get cold from your toes and wrap a soft, warm alpine scarf around your neck.

Alpacas are grown mainly for their excellent wool. Alpaca wool is shiny and silky, soft and luxurious. Alpaca wool is considered to be 7 times warmer and 3 times stronger than sheep wool, it is not pungent and does not contain lanolin, thus being allergy-free.

The scarf has a checkered pattern
Scarf color: green, red and white
Dimensions: 70 x 180 cm
Ingredients: 100% baby alpaca
An interesting fact about alpacas: The fleece of alpaca is the second strongest animal fiber

Although alpacas have a single offspring a year, they are often not raised for their meat or milk. They are becoming increasingly prominent due to the fleece quality. They are known as the second strongest animal fiber after mohair.